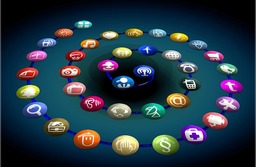 If you want peace, you have to be peaceful. The way to encourage peace is through our words and actions. Often, we go daily thinking we are peaceful, loving people and for the most part, that is correct. However the incidents of encouraging peace are not evident in the media streams that engorge us with information, and we often miss the point because once we share, like, or follow we are making a statement and endorsing that person's belief system. Today more than ever it's important to be judicious with what you click on in the fast streams of information and people that pass through your computer.
For healthy endorsement and effective peaceful posting, consider the following:
1. Who is the source? Is the cause you are championing a real cause or is it something you found on the Internet that passed through your stream by someone you may or may not know?
2. Are you responding because you're embarrassed? If you "share" or "like" something, be sure you are doing so because you want to and not because someone shamed you into it. I've seen many posts pass my stream with a threat or dare that I'm not a good person if I don't do what is asked. Some have gone as far as to dare people to share! Those are bully tactics.
3. Are you mindful of whom you follow? Those people that you friend/follow also get your stamp of approval when you connect with them, and it's important to be discerning of the material you release. It is a direct reflection of who you are on the Internet. It becomes part of the identity you reveal publicly.
By being aware of how we interact when we are presenting ourselves on our computers, whether that is via Internet browsing or social media, will help us achieve a better balance of the issues we face daily. This allows us to discover our stance regarding our own beliefs, as it will help to separate them from the ones by people who communicate with us via our computer screens. You have to know what you believe before you can be challenged by another.
Remember: Your clicks, replies, shares, likes and follows are very powerful and should not be so easy to acquire. They are the pieces of the puzzle of the person you become when you are at your keyboard. It's part of your computer profile. Taking action now will help you create a powerful profile of peace, online and off.
originally posted on HuffPostLiving (http://www.huffingtonpost.ca/linda-lauren/three-ways-to-peaceful-so_b_6699366.html) 2-17-15